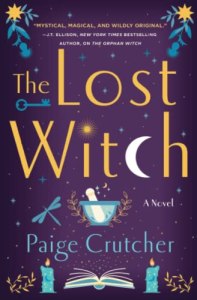 The Lost Witch by Paige Crutcher
Type: Novel
Publisher: St. Martin's Griffin
Release date: December 27
Den of Geek says: Witchy fiction is having a moment right now. Often, these books frame magic as soft, empowering, and fun. The Lost Witch is one of those, plus a dash of inter-generational intrigue and romance.
Publisher's summary: 1922. The town of Evermore off the coast of Ireland is under the protection of a Goddess. She has bestowed power upon village healer Brigid Heron to ensure the heart of magic within the Lough of Brionglóid―the lake of dreams―remains untouched. For the witches of Knight want to absorb its powerful energies and release the Damned from the Otherworld. Brigid has devoted her whole life to being Evermore's guardian, immersing herself in witchcraft, and sacrificing her own dreams. Until Luc Knightly, a trickster god with his own claim on the lough, offers Brigid her heart's desire in exchange for betraying her Goddess's trust.
2022. A century later, Evermore is under siege. The witches of Knight wield chaos magic, opening the rift between the island and the Otherworld wider every day. Beings born from folklore nightmares prey on the villagers, consuming their very humanity. Ophelia Gallagher, Brigid's descendent, and her fellow witch Finola McEntire do their best to keep the monsters and mayhem at bay.
Brigid awakens in this world with no memory of how she traveled into the future, and why Evermore has been cursed. To seal the lough and stop the witches of Knight, she must work with Ophelia and Finola to help her remember the events of a hundred years ago. But the knowledge she seeks lies with Luc Knightly himself–mysterious, handsome, and powerful–and the one who once upon a time granted Brigid her dearest wish―a daughter.
To save Evermore, Brigid may have to lose her daughter―again…