In many ways, Nona is like other people. She lives with her family, has a job at her local school, and loves walks on the beach and meeting new dogs. But Nona's not like other people. Six months ago she woke up in a stranger's body, and she's afraid she might have to give it back.
The whole city is falling to pieces. A monstrous blue sphere hangs on the horizon, ready to tear the planet apart. Blood of Eden forces have surrounded the last Cohort facility and wait for the Emperor Undying to come calling. Their leaders want Nona to be the weapon that will save them from the Nine Houses. Nona would prefer to live an ordinary life with the people she loves, with Pyrrha and Camilla and Palamedes, but she also knows that nothing lasts forever.
And each night, Nona dreams of a woman with a skull-painted face…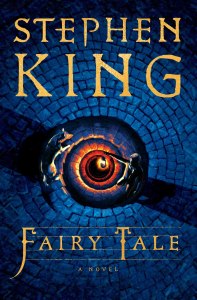 Fairy Tale by Stephen King
Type: Novel
Publisher: Scribner
Release date: September 6
Den of Geek says: Stephen King's pandemic novel was built on the vision of a tall, abandoned city. The result: a spooky, grounded portal fantasy filter through the master of horror's unique lens.
Publisher's summary: Charlie Reade looks like a regular high school kid, great at baseball and football, a decent student. But he carries a heavy load. His mom was killed in a hit-and-run accident when he was ten, and grief drove his dad to drink. Charlie learned how to take care of himself—and his dad. When Charlie is seventeen, he meets a dog named Radar and her aging master, Howard Bowditch, a recluse in a big house at the top of a big hill, with a locked shed in the backyard. Sometimes strange sounds emerge from it.
Charlie starts doing jobs for Mr. Bowditch and loses his heart to Radar. Then, when Bowditch dies, he leaves Charlie a cassette tape telling a story no one would believe. What Bowditch knows, and has kept secret all his long life, is that inside the shed is a portal to another world.