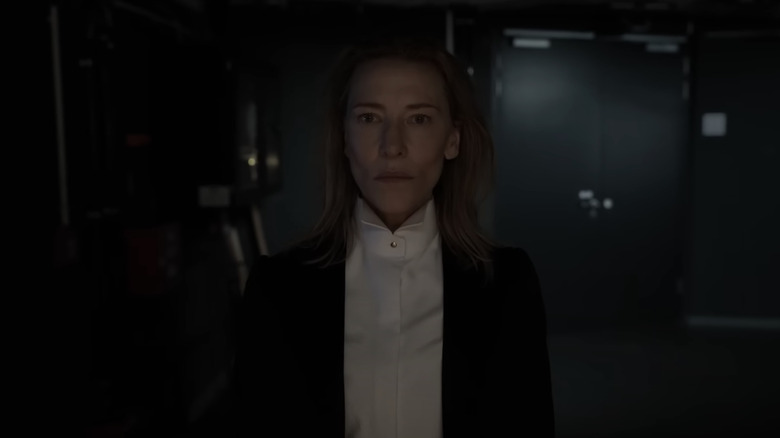 Focus Features
When you are an actor, you end up learning how to do a bunch of different things you never thought you would ever learn. Well, if you're a committed actor, that is. Actors learn how to ride horses, play instruments, make clothes, build furniture, etc. Whatever the role calls for, they put in the time and effort to research and train to be able to passably simulate them on screen. In some cases, they actually get really good at what they are asked to do for a role.
Cate Blanchett, unsurprisingly, is a committed actor. Her body of eclectic and full-throated performances is proof positive of that. Her latest film "TÁR" is no exception. The Todd Field drama receiving positive reviews on its current film festival circuit run, including from /Film's own Marshall Shaffer, sees Blanchett taking on the titular role of Lydia Tár, who is a conductor. As you would probably expect, this required Blanchett to prepare for the role by learning how to conduct.
I may be out of line here, but I don't think conductors receive the respect in the popular landscape that they deserve. I think a lot of people see them up at a podium, waving a stick around, and think they aren't doing all that much. The ones playing the instruments are the "real" artists. Conducting is actually a very tough job. They are not there to just maintain the tempo of the music. They are there to wrangle the sounds of dozens of musicians into a cohesive whole. It is no easy feat, and for Cate Blanchett's rite of passage into being able to conceivably project the air of a conductor, she needed to actually conduct a proper orchestra.
Finding a middle ground in conflicting comfort zones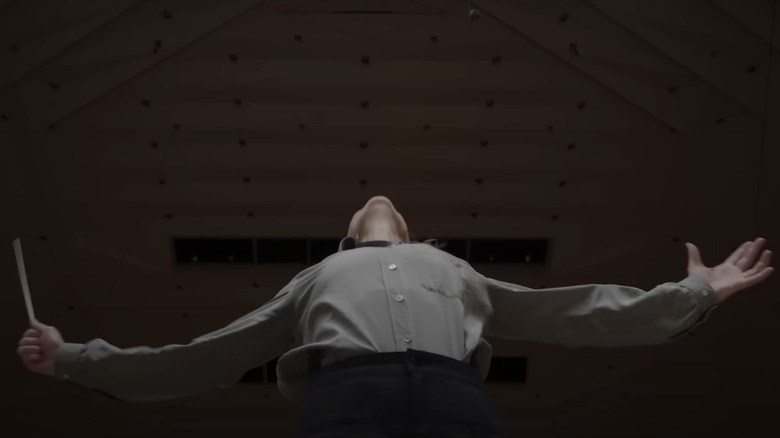 Focus Features
The orchestra that Todd Field utilized for "TÁR" was the Dresdner Philharmonie, which has been around since 1870 and is currently conducted by Marek Janowski. This is not a collection of extras made up to look like they are musicians that are mime playing. Performing in this orchestra is what these people do, and Cate Blanchett had to be prepared to conduct with them. Even beyond that, she had to conduct in character as Lydia Tár. In an interview with The Playlist, she recalled the experience of finding her connection with the Dresdner Philharmonie:
"When you raise your hand, you get the downbeat, and the sound starts, and you find your own way with them. So, they had to act. It was outside their comfort zone, and I had to conduct them, which was also outside of my comfort zone. And so, somewhere, like any conductor in any orchestra, somewhere between us, the music happened."
Her intensity with how she feels the music the orchestra plays dictated quite a bit of her performance. Blanchett explains that Tár "was the child of deaf parents" and "has an acute sensitivity to sound." If you are playing someone like that and are mere feet away from dozens of musicians performing at your command, you are going to feel the music with every inch of your body. Just from the brief shots of Blanchett conducting in the trailer, you can see she isn't holding back on the physicality whatsoever. Those brief glimpses are exciting spectacle now, and I cannot wait to see the whole film to feel the dramatic weight behind her conducting.