Made after the first Jay and Silent Bob movie was intended to close the curtain on Smith's '90s era, there's a forlorn melancholy to what was intended to be Smith's serious attempt to do a movie for "grown-ups." Here Smith and Ben Affleck reteamed for a subject that would come to dominate the filmmaker's later Clerks films: death and mortality—and in this case imagining what it would be like if he'd lost his wife at the beginning of having a family.
The movie can be saccharine and treacly. But those elements are also counterweighted in the movie's ability to rely on Smith's big-hearted sentimentality, which would come to anchor most of Smith's better projects. In 2004, it revealed a flickering ambition to break out of weed and dick jokes. Plus, the chemistry between Affleck and his onscreen daughter, played by Raquel Castro, sparkles when the movie ends with the pair performing a number from Stephen Sondheim's Sweeney Todd, cannibalism and all, before Castro's elementary school. Who says Smith doesn't know how to make all-ages family entertainment? – DC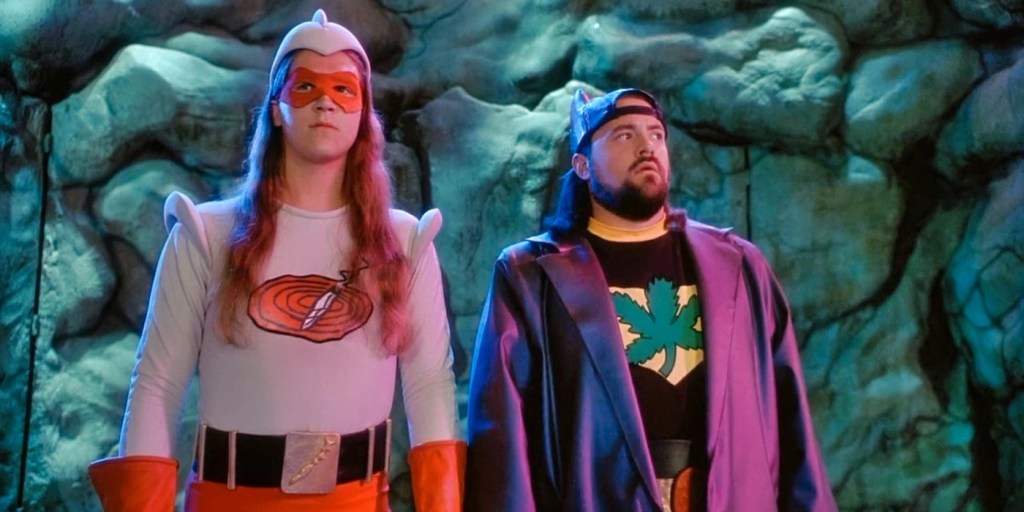 7. Jay and Silent Bob Strike Back (2001)
The Avengers of Kevin Smith's View Askewniverse, Jay and Silent Bob Strike Back was the culmination of all of the interconnectedness of Smith's first four films filtered through a cartoonish lens and centered on the fan-favorite, dopey Rosencrantz and Guildenstern analogs Jay and Silent Bob. Before Kevin Smith made fan service his full-time job, this felt like a love letter to his fans while also mirroring the broad, male-centered road trip films that were en vogue during the era.
Jay and Silent Bob Strike Back follows Jersey's favorite stoners as they travel to Hollywood to stop a Bluntman and Chronic movie from being made. Remarkably, the film predicts issues with internet commentary culture and the superhero movie industrial machine, but don't get it twisted, this is still a Kevin Smith movie centered on his most crass characters.
This film was aimed squarely at 13-year-old boys and it hits that mark extremely well. Granted, there is some icky male gaze stuff at play here, but Smith's buddies like Ben Affleck and Jason Lee, as well as newcomers like Will Ferrell and Chris Rock, make the most of their screen time, and virtually all of the cameos, from Mark Hamill to Wes Craven, score (subsequent attempts to return to this cameo well pale in comparison). Jay and Silent Bob Strike Back really feels like a turning point in Smith's career, for better or for worse. After a few studio failures and indie horror oddball entries, the cozy comfort of the View Askew toy chest is where Smith seems content to play these days, with Jay and Silent Bob Strike Back feeling like the template. – NH
6. Clerks III (2022)
Like Clerks II before it, Kevin Smith used the long, long, long promised Clerks III to get a little more serious while reflecting on his career, if not his existence. This makes a certain amount of sense. Brian O'Halloran's Dante Hicks was, after all, always intended to be the fate Smith escaped—the Jersey hell of working behind a Quick Stop counter for the rest of his life.