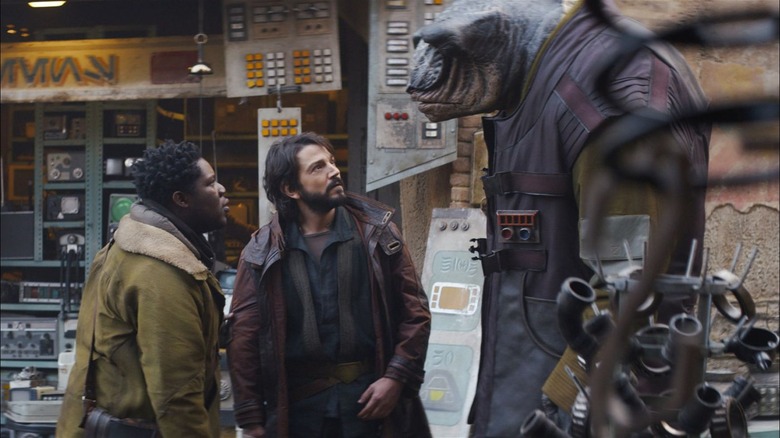 In this edition of Star Wars Bits:
"Andor," Nothin' But "Andor"!
Regal Robot's Weequay Concept Maquette Replica
An Amazing BB-8 Fan Build
Trailer Reactions for "Tales of the Jedi" and "The Mandalorian" Season 3
And More!
Andor! Nothin' But Andor!
The first three episodes of "Andor" are now available on Disney+. To celebrate, we've got tons of in-depth reviews and reactions from fans and content creators across the galaxy. We'll start with a spoiler-free review from HelloGreedo, which you can watch above!
Next, Dan Casey at Nerdist breaks down the first three episode and covers everything you might have missed.
Next up, Alex at Star Wars Explained shares his thoughts on the "Andor" premiere.
Ralph and James at Live Action Star Wars review the first episode of "Andor" above. Check out their reviews of Episode 2 & 3 on their YouTube channel. 
Star Wars: Rebel Rising Book Review
Just in time for "Andor" fever, Jedi Novel Archive has a refresher review of the 2017 novel" Star Wars: Rebel Rising" by Beth Revis, which charts the early life of another "Rogue One: A Star Wars Story" hero, Jyn Erso.
Regal Robot's Weequay Concept Maquette Replica
Regal Robot is expanding their Archive Collection with an all-new Weequay Concept Maquette Replica. Based on the maquette originally sculpted by Ken Ralston for "Star Wars: Return of the Jedi," this 7″ tall replica is meticulously hand-painted with hand-applied hair. In the video above, Regal Robot's Tom Spin and Ken Ralston discuss the origins of the sculpture. Check out the full 35-minute discussion here. 
The Mandalorian Season 3 Trailer Reaction
Chase aka That Gay Jedi shares their reaction to the recent trailer for "The Mandalorian" Season 3. 
Tales Of The Jedi Trailer Reaction
Scotty Holiday Too is back with a new video breaking down the recent "Tales of the Jedi" trailer. 
The Black Series: Cassian Andor & B2EMO
Oh, you thought we were done with "Andor" news? Wrong! Landspeeder Luke has a review of the PulseCon exclusive two-pack of Cassian Andor and B2EMO from The Black Series.
Building A Real-Life Lola Droid
M.M's Prop Shop has an excellent video showing the process of building Lola (L0-LA59) from "Obi-Wan Kenobi."
Fan-Made BB-8
Speaking of building droids, Adam Savage's Tested shows us an amazing fan-made BB-8 by Psy DeLacy and Chris Stroud. 
This Week! In Star Wars
On This Week! in Star Wars, host Kristin Baver gives us the lowdown on all the latest news from that galaxy far, far away.
"This week in Star Wars, join us on the red carpet for the 'Andor' Launch Event in Hollywood. Featuring stars Diego Luna, Genevieve O'Reilly, Adria Arjona, Kyle Soller, Fiona Shaw, and other members of the cast; creator Tony Gilroy and the crew; and other fans to celebrate the premiere of 'Andor,' with new episodes streaming every Wednesday on Disney+."
Read this next: The 14 Best Star Wars Creatures Ranked
The post Star Wars Bits: Andor, Regal Robot's Weequay, BB-8, The Mandalorian, Tales of the Jedi, Obi-Wan Kenobi, and More! appeared first on /Film.