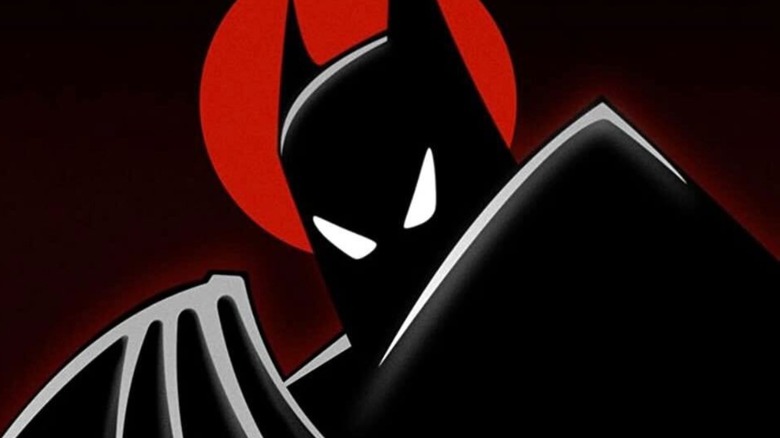 (Superhero Bits is a collection of stories, updates, and videos about anything and everything inspired by the comics of Marvel, DC, and more. For comic book movies, TV shows, merchandise, events, and whatever catches our eye, this is the place to find anything that falls through the cracks.)
In this edition of Superhero Bits:
A new "Teenage Mutant Ninja Turtles" video game is on the way.
John Diggle on that Green Lantern tease in the "Arrow" finale.
"Batman: The Animated Series" turns 30 today.
Will Stargirl Season 4 Happen? Brec Bassinger Weighs In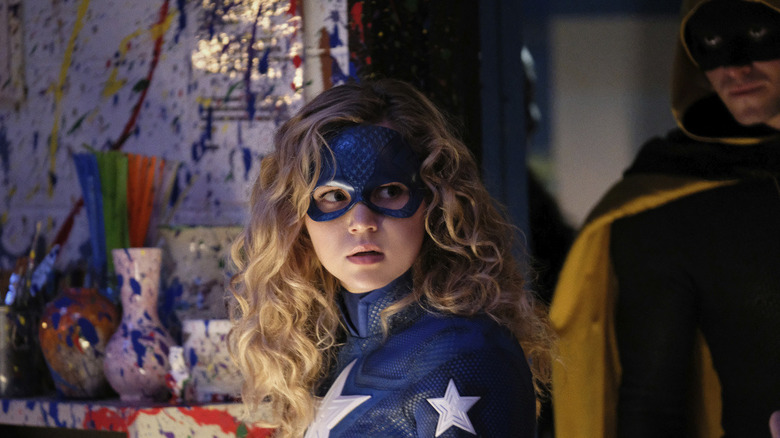 The fate of the Arrowverse is all but decided, what with "The Flash" coming to an end and The CW sold to a new owner. Be that as it may, "Stargirl" lead Brec Bassinger is hopeful that the show is going to get a fourth season, though nothing is set in stone right now. Speaking with Decider, the actress had this to say about it:
"Geoff, our showrunner, for lack of a better term, this is his baby and he's put so much love, and I've heard season 4 pitches, and I know he's not leaving any stone unturned to get it to continue. But I'm just so grateful. There has been so much fan push on Twitter and Instagram, and it has made me and Geoff and the whole cast and crew feel so loved, because we do work hard on it. So it feels good that they're rooting for us."
"Stargirl" is currenting airing its third season on The CW right now, with new episodes dropping Wednesdays.
Kid Flash Build-A-Figure From McFarlane Toys
The fine folks at McFarlane Toys have revealed a new Kid Flash figure that is set to be a part of the company's Build-A figure wave, in partnership with DC. Unfortunately we don't have much to go on right now, save for the above image reveal. But we should be getting more details on pricing and a release date soon, as well as retailer info. So those who are interested in picking one of these up would do well to stay tuned to the company's social channels.
Moon Knight Won An Emmy
The Creative Arts Emmys took place over the weekend and the Marvel Cinematic Universe is officially picking up trophies for its work on the small screen now. To that end, "Moon Knight" took home the Emmy for Outstanding Sound Editing for a Limited or Anthology Series, Movie or Special. More than anything, this is a reminder that Marvel and Disney are billing the show as a limited series, meaning that anyone's hopes of getting a second season grow slimmer by the day. But hey, that one season resulted in a fancy award to add to Marvel Studios' trophy case.
It Looks Like A Big New Teenage Mutant Ninja Turtles Game Is Coming Our Way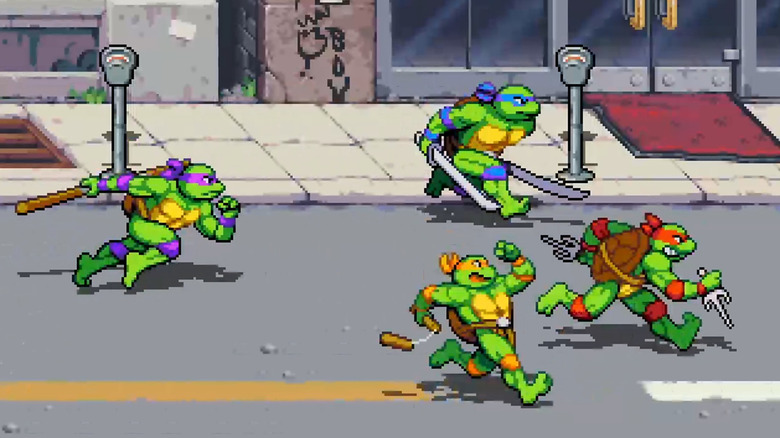 As reported by the folks at The Gamer, the September issue of Toy World Magazine states that Nickelodeon and Paramount are set to release a "brand new triple-A" video game set within the "Teenage Mutant Ninja Turtles" franchise in 2023. The move would make sense given the release of the animated "TMNT" film "Mutant Mayhem" hitting theaters next summer. Plus, "Shredder's Revenge" did quite well recently and the "Cowabunga Collection," which collects a bunch of older games featuring the half-shell heroes, recently hit shelves. But this indicates we are getting something much more significant than a new side scroller. We'll be sure to keep you posted as further details come our way.
She-Hulk Featurette Highlights The Show's Many Big Cameos
"She-Hulk: Attorney at Law" has been quite unlike any other MCU project to date and is very much making use of the episodic storytelling allowed by its Disney+ release. As part of that, we've been treated to some big cameos serving as major surprises week-to-week. The above video goes over some of those cameos thus far, namely Megan Thee Stallion's much-discussed appearance in episode 3. But many other cameos in the show's future are also teased. We know Daredevil is coming, but who else might be on the docket? The show returns with a new episode this Thursday.
John Diggle's Green Lantern Setup In Arrow Is Not Resolved Says David Ramsey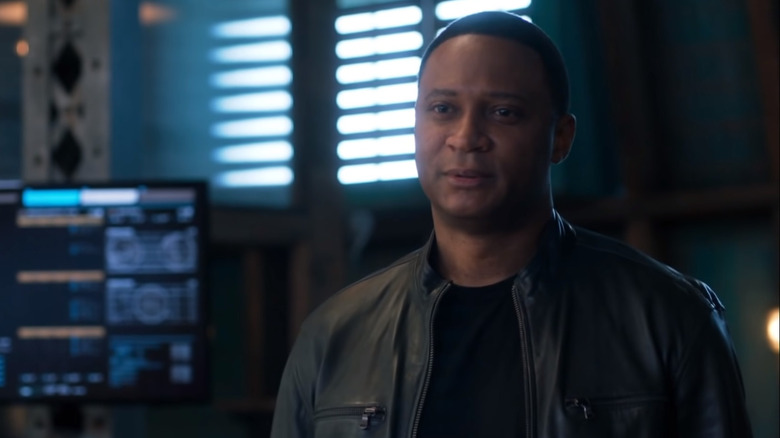 A gigantic theory for years in the Arrowverse was that David Ramsey's John Diggle would be revealed as a Green Lantern. And, wouldn't you know it, the "Arrow" finale kind of teed that up. Yet, nothing really ever came of it. Well, speaking at DragonCon (via The Direct), Ramsey addressed that situation in a very meandering way. The main takeaway? He says that thread has yet to be resolved.
"It's not resolved. Eric [Wallace] called me, showrunner of 'The Flash,' and he had a pitch for me to end the saga, the Green Lantern Saga, within the Arrowverse. The reason why he did is because the Arrowverse was ending, right? It's gonna end with Flash and all the other shows would go. We knew, not at the time, I knew but you didn't know yet, that Todd [Helbing] was going to reveal in 'Superman & Lois' that the Superman & Lois-verse, if you will, exists on another planet, on a different Earth, and these characters are still alive. The idea is perhaps there's a world where we can explore the Flash, or maybe just Barry Allen. Maybe he is Flash, maybe he isn't. Is Oliver Queen alive? Maybe he is. Maybe the ring is still there."
"The Flash" season 9 and "Superman & Lois" season 3 are pretty much going to wrap it up for the Arrowverse so it seems less and less likely we'll ever pull on this thread again. But who knows?
Chadwick Boseman Won A Posthumous Emmy For His Role As T'Challa In What If…?
Just over a year after his untimely passing, Chadwick Boseman was awarded an Emmy for his final performance as T'Challa in the MCU. Specifically, the actor took home the prize for Outstanding Character Voice-Over Performance for his work in "What If… T'Challa Became a Star-Lord" from "What If…?" season 1. It was a well deserved award and serves as a reminder of what we lost with Boseman's passing, though we are very fortunate to have the tremendous body of work he left behind.
Morena Baccarin Wants To Be In Deadpool 3, But She Has No Idea What's Going On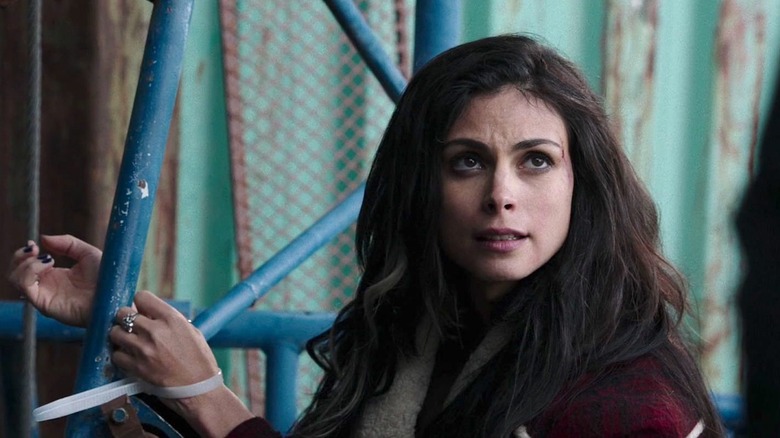 We know that Disney is finally making "Deadpool 3" happen and it seems like things are coming together nicely on that front. But who is going to be joining Ryan Reynolds in the sequel? Morena Baccarin expressed her desire to return as Vanessa during an appearance at DragonCon (via The Direct). However, she has no idea if that's going to actually happen or not.
"You know, from your lips to God's ears, I have no idea [if Vanessa's in Deadpool 3]. They're writing the script right now. I'm usually the last to find out anything. I'm not even … I wish I had information I could give you but I really don't. But it'd be great."
Now, let's be honest, even if Baccarin did know something, it's not as though she would be able to say so. Still, it does sound like she's being genuine and the opposite of cagey here.
Happy 30th Birthday, Batman: The Animated Series!
Lastly, today is a landmark day in superhero history as "Batman: The Animated Series," arguably the greatest adaptation of the Dark Knight in any medium outside of the pages of DC Comics, is celebrating its 30th anniversary. indeed, on this day in 1992, the first episode of the beloved series debuted, introducing us to Kevin Conroy's legendary Batman who, to this very day, remains the "one true Batman" for a great many fans. Those looking to celebrate can do so by streaming the series on HBO Max, if they so choose.
Duh na na na na na nana.Celebrate the 30th Anniversary of Batman: The Animated Series by streaming today on @hbomax. pic.twitter.com/3Aavxmn3oZ

— Hero Mode | HBO Max (@HeroMode) September 5, 2022
Read this next: Disturbing Comic Book Moments The MCU Will Never Show You
The post Superhero Bits: Batman: The Animated Series Turns 30, Moon Knight Won An Emmy & More appeared first on /Film.