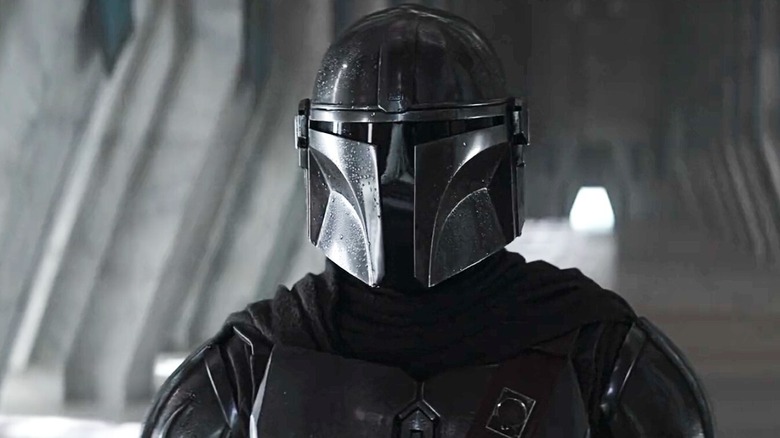 You asked for it, you waited patiently (well, some of you, anyway), and now it's finally here. Lucasfilm has seen fit to officially release the season 3 trailer for "The Mandalorian," the popular Disney+ series about a single dad and his rambunctious adopted child which just so happens to be set in a galaxy far, far away. /Film's Ethan Anderton was on the ground at D23 to catch the teaser as it was premiered.
When last we saw the perpetually helmeted Mando, Din Djarin (Pedro Pascal), and his ward, Grogu, it … wasn't even in his actual show, strangely enough. For those who may have skipped "The Book of Boba Fett" the first time around, uh, spoiler alert: it turned into "The Mandalorian" 2.5 about halfway through, pausing the ongoing storyline concerning the famed bounty hunter and instead devoting an entire episode to bring Mando back into the swing of things. Before that, our last look at "The Mandalorian" came with the season 2 finale back in December of 2020, which might as well feel like a lifetime ago (by pandemic reckoning, of course). Confronted by a young and uncanny valley-looking Luke Skywalker, Mando bade farewell to Grogu in an emotional goodbye that left fans wondering how exactly the show could continue after such a status quo-upsetting development.
That pivotal moment was somewhat deflatingly reversed in "The Book of Boba Fett," for better or worse, and now season 3 is set to pick up where the characters left off. This is, as they say, the way. Check out the exciting new footage below!
The Mandalorian Season 3 Teaser
Technically speaking, this isn't actually our first look at what season 3 of "The Mandalorian" has in store for eager viewers. During this year's Star Wars Celebration, lucky attendees (including /Film's own Ethan Anderton) received an exclusive look that, until now, has remained our only real insight into the continuing adventures of the Mandalorian and his infant, Force-sensitive sidekick. The footage boasted more impossibly adorable Baby Yoda antics, the return of Katee Sackoff as the rival Mandalorian Bo-Kotan and Carl Weathers as Greef Karga, and the arrival of several more Mandalorians suited up in their distinct armor.
There's plenty of crossover between those visuals (as described to the rest of us secondhand) and this new official trailer for season 3, to be sure, as "The Mandalorian" will clearly begin with the central pair reunited once again after the events of "The Book of Boba Fett" and ready for whatever comes next — which, from what we saw in the spin-off series, will feature Din Djarin embarking on a redemptive quest to atone for committing the ultimate sin of unmasking himself. Needless to say, Lucasfilm is undoubtedly holding back even more plot turns and story reveals than they're showing, but it's nice to have a better idea of where we'll be headed soon enough.
Created by Jon Favreau and executive produced by Favreau, Kathleen Kennedy, Dave Filoni, and Rick Famuyiwa, season 3 of "The Mandalorian" will premiere in February of 2023 on Disney+ streaming.
Read this next: Star Wars Movie Villains Ranked Least To Most Powerful
The post The Mandalorian Season 3 Trailer: This Is The Way [D23] appeared first on /Film.